Inspiring leaders. Transforming organizations.
Companies turn to ICAN to invest in their most valuable resource: their employees. At the same time, individuals need to invest in their own careers, too. When people succeed, their companies succeed. We help people like you navigate their careers, elevate their work and motivate each other to be their best.
Learn About Authentic Leadership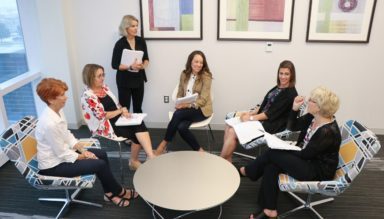 Defining Leadership Registration Now Open!
Be a part of our next class to elevate your potential, strengthen your abilities and transform your life, company and community!
1,500+ Graduates Strong
Our proven leadership development programs can help you find your true purpose and engage with your work like never before.
Developing and influencing generations of leaders
Inviting you to learn from leadership experts
0
Defining Leadership Graduates
Transforming leaders since 2004 through our flagship program
0
Partner Companies Annually
Organizations trust and turn to us year after year for high value experiences to inspire and invest in their talent pipeline.
Defining Leadership
Ignited Purpose. Maximized Potential.
During eight immersive, day-long group sessions, we'll expound on all facets of leadership and how you can enhance your career now. Your leadership style and how you represent yourself to people plays a big role in your individual path. You'll learn more about yourself, you'll expand your network and you'll design intentional plans to accomplish your goals.
Learn More
Custom Programs
Leadership Your Way
Custom programming offers the opportunity for our incredible faculty to lead personalized sessions at your company. We work closely with you to determine your unique needs and build a program that will accomplish your specific goals. This is an opportunity to delve into your organization's culture, build off its strengths and take your leaders to the next level by choosing the programming that is right for you and your company.
Learn More
Meet our Faculty
As lifelong learners, certified experts and leadership specialists, our faculty members have one important thing in common: they love seeing people fulfill their potential.
The ICAN Women's Leadership Conference
Coming next on May 15, 2024
In our 30th conference year, 3,200+ leaders joined together for an unforgettable and inspiration-filled day of listening, learning and leading with international thought leaders and bold conversations. 
Learn More
Leadership Development for Everyone
We offer a variety of leadership programs that are suited for all career experience levels, all organization types and sizes, and all industries.
Level Up and Stand Out
Individual Coaching
Elite athletes have coaches to help them refine their techniques, elevate their skills and motivate them to win. Having a coach in your corner can help you stay at the top of your game — or help you get there. The individuals we coach are paired with one of our faculty members who advises them on their career, leadership development and more.
Personalized Success