Donations to ICAN help deserving individuals gain access to leadership development programs and help us serve a greater number of leaders.
Donate
ICAN is a non-profit organization, and as such, support offered goes to people and smaller organizations who otherwise don't have the resources to access leadership development programming. We are proud to offer the ICAN Scholarship Fund, which has widened the leadership pipeline for companies and supported many leaders in the opportunity to attend experiences such as the ICAN Women's Leadership Conference.
When you support ICAN, you're giving a life-changing opportunity to a leader.
Donations can be designated for the ICAN Scholarship Fund or for general operating funds to help us grow and touch more lives.
For 2023, ICAN is offering a special donation campaign in honor of our 30th Anniversary ICAN Women's Leadership Conference to honor a leader in your life. See feature below for details on this opportunity available until April 10.
Donate Now
Diversity, Equity & Inclusion
It's important to us that everyone has equal opportunities for advancing in their career, finding meaning in their work and learning how to contribute as their authentic self.
Honor a Leader in your Life
Have them recognized at the 30th Anniversary ICAN Women's Leadership Conference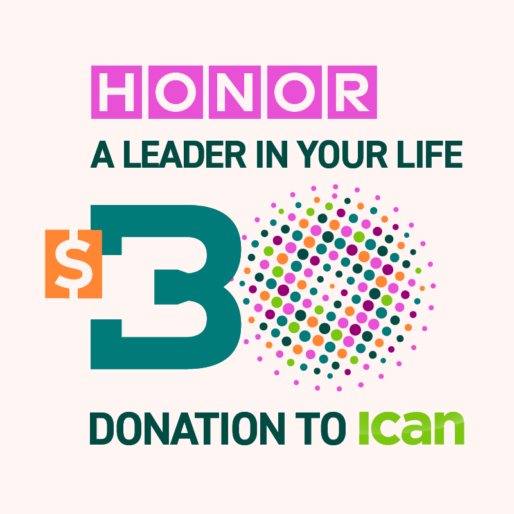 In honor of our 30th Anniversary ICAN Women's Leadership Conference, for a donation to ICAN of $30 or more you can honor a leader who has made an impact in your life and/or professional career. This list of honored leaders will be featured at the conference on May 17 so our audience can join you in recognizing their leadership and impact. Learn more at the button below and submit a leader by April 14 for inclusion in this recognition opportunity. We also welcome any who would like to honor someone posthumously. Thank you for your support and effort to honor this inspiring individual!
Honor a Leader + Donate
Consider supporting ICAN on a company-wide level by becoming a partner.
Partner with ICAN
We help leaders navigate their careers, elevate their work and motivate each other to be their best — but we can't accomplish our work without our valued company partners. Our proven leadership development programs are available to our partners, among other benefits.
Learn More