We celebrate and honor authentic leadership through the 4 C's
ICAN Leadership Award
The ICAN Leadership Award, presented in partnership with Kiewit Corporation, honors a person at any leadership level who demonstrates collaboration, compassion, confidence and creativity. Presented annually at ICAN's Women's Leadership Conference, this prestigious award recognizes people who live and lead authentically.
Nominations for the 2024 ICAN Leadership Award will open in January 2024.
Exceptional Leadership
"As leaders today face such unbelievable challenges, validating and saluting excellence in leadership is more important than ever."
— Alicia Edsen, Vice President & Corporate Safety Director, Kiewit
We've identified four key traits that extraordinary leaders possess. 
Award Criteria
These four traits are essential for leaders to be successful in today's business climate, and are exemplified by the ICAN Leadership Award honoree. All nominations are reviewed by a Selection Committee composed of ICAN Board of Directors members, past recipients, representatives from ICAN and Kiewit, and community business leaders. Please contact Amy McLaughlin at amy@icanleaders.org or 402-392-0746 with any questions.
Collaboration
Award Criteria
Brings their many gifts to the table and shares them in pursuit of a common goal. They bring ideas, passion, their mind, body and soul to their work and welcome the same from others. They "host" conversations rather than acting as the "hero" who solves everyone's problems and dilemmas.
Compassion
Award Criteria
Makes consistent and meaningful efforts toward diverse, equitable and inclusive practices that provide a feeling of belonging for all. Building relationships, showing empathy and caring for the wellbeing of others within their organization and community are a priority for this passionately dedicated and service-focused individual.
Confidence
Award Ciriteria
Does not conform to others' expectations but is brave enough to look within and believe in what they feel is right. This leader demonstrates self-assuredness by cheering for other people's success and accomplishments, stands up proudly for what they believe and is courageous enough to take unpopular positions. This individual also knows how to listen and step back to let others lead.
Creativity
Award Criteria
Experiments with new and creative initiatives, tools and concepts. They think outside the box and uses their intellect and their instinct to be a creative problem solver. Their creativity and innovation unleashes the potential within themselves and others.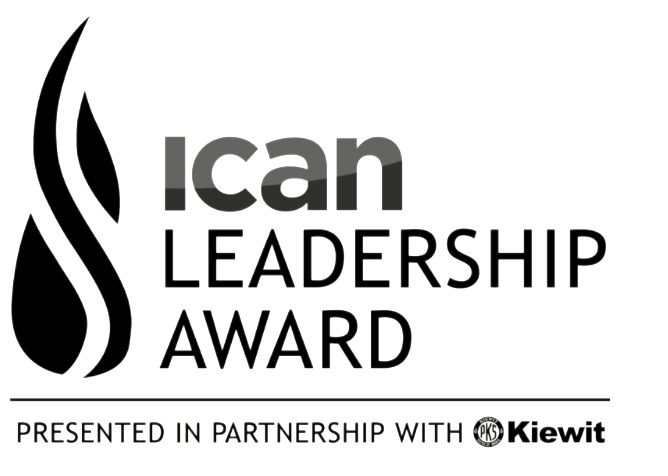 The ICAN Leadership Award was created in 2015 to recognize excellence in leadership through the 4 C's: Collaboration, Compassion, Confidence and Creativity.
We invite you to enjoy profile videos on our ICAN Leadership Award Recipients to be inspired by their leadership, insights and reflections.
RECIPIENT FEATURE VIDEOS
Recipients:
Racquel Henderson – 2023
Pathway Coordinator, Metropolitan Community College
Julie Kaminski – 2022
SVP and Chief Operating Officer, Immanuel
Carmen Tapio – 2021
Founder, President & CEO, North End Teleservices LLC
Josie Abboud – 2020
President & CEO, Methodist Hospital and Methodist Women's Hospital
Nancy Pridal – 2019 
President & CEO, Lamp Rynearson
Patricia Kearns – 2018
President & CEO, QLI
Timothy J. Burke – 2017 
President & CEO, Omaha Public Power District
Gail DeBoer – 2016 
President & CEO, Cobalt Credit Union (formerly SAC Federal Credit Union)
Meet fellow leaders at ICAN's Women's Leadership Conference.
The ICAN Leadership Award is announced each year at ICAN's Women's Leadership Conference, making it a highlight of an already inspirational day. Every year, thousands of people gather to rejuvenate their spirits, learn new leadership skills and interact with leaders of all levels.