You're in luck.
7x7x7 – November 1
Great things are in store for you at 7x7x7 events. They're fast-paced, engaging and energetic, and while they are planned with more intention than luck, they also have a bit of synergistic magic. 7 speakers x 7 minutes each x 7 different topics.
Hosted in Omaha and Lincoln, the 7x7x7 events are a modern take on traditional public intellectual dialogue forums, where people gathered for robust discussions on science, philosophy, politics and more. At 7x7x7 events, you can expect new takes on leadership development, business trends and community growth.
Get ready for high-level learning and meaningful dialogue at the next 7x7x7:
November 1
|

4-7 p.m.
Creighton University Harper Center Auditorium
Hosted in partnership with the Creighton University Charles 'Mike' Harper Endowed Chair in Business Leadership
$57 | Individual
$500 | Block of 10
$777 | Sponsorship Block of 10 with recognition
– Drinks and Appetizers included –
REGISTER NOW
7 Minutes.
7 Speakers.
7 Topics.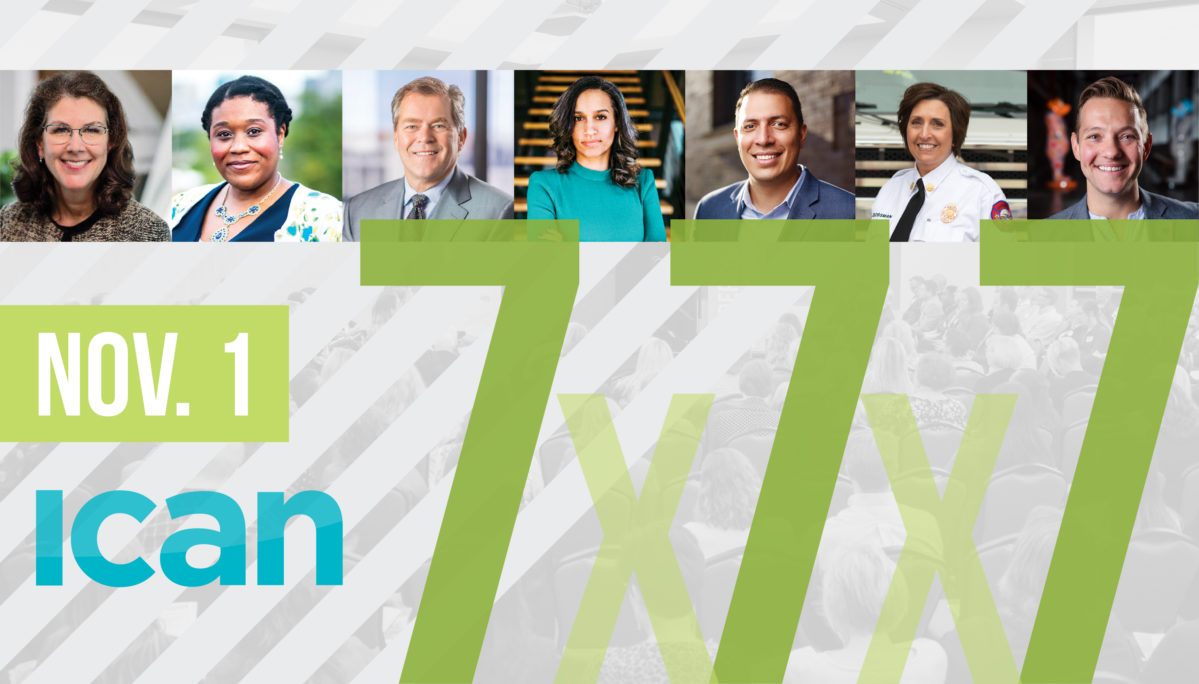 The 2023 Omaha 7x7x7 Line-Up:
Beth Whited

 – Union Pacific Railroad 

|

  President


Cammy Watkins

 – Inclusive Communities 

|

  Executive Director


Allen Fredrickson

– Signature Performance  

|

  Chief Executive Officer


Ashley Kuhn

– Blair Freeman  

|

  Co-Founder and President


Cèsar Garcìa

– Canopy South  

| 

Executive Director


Chief Kathy Bossman

– Omaha Fire Department  

|

 Chief


stephan grot

– kaneko 

|

 executive director

With just seven minutes to present, seven local speakers discuss seven different topics, distilling their messages to the most important parts during our 7x7x7 events. Each speaker's topic encompasses something they are uniquely informed on or passionate about. The 7x7x7 events are smaller and more interactive than our annual conference. These 3-hour events are hosted for the opportunity to connect more frequently with our graduates and partners and to bring together the entire business community — large and small — around leadership, learning and networking on contemporary business and leadership ideas.

Following the seven speaker presentations, attendees grab a drink and appetizers to shift into the circle conversation portion. This is a true wow-factor of the event, providing the opportunity to deeply discuss what was learned from the speakers and peer network with others in the discussion group.
THANK YOU TO OUR 7x7x7 PARTNERS:
/ / / / / / / / / / / / / / / / / / / / / / / / / / / / / / / / / / / / / / / / / /
Watch a few recent presentations below:
Sarah Waldman
Leadership Lessons from Mentoring
Nate Dodge
Reflections on Value Based Leadership
Buey Ray Tut
Functioning in Disfunction – My Insights
2023 Omaha 7x7x7 — November 1
Local Leadership
In partnership with the Creighton University Heider College of Business, the Omaha 7x7x7 brings together regional business leaders for an event featuring successful leaders and experts with unique and exciting passions and ideas. Learn something new and connect over drinks and discussion on contemporary leadership topics. The Omaha 7x7x7 event is held in person each fall. Within this 7x7x7 concept, you will hear from seven local leaders each speaking for seven minutes on a topic in which they hold an informed and inspired position. It is both educational and enlightening, with a goal to spark new thinking and provocative dynamic conversation on seven unique topics relevant to business leadership. Attendees will then break into networking circle conversations over drinks and appetizers to engage in interactive dialogue on content presented in smaller groups.
Lincoln 7x7x7
Future dates to be scheduled
Please check back or follow us on our social media channels for an announcement of future Lincoln dates and details. Thank you!
The origins of ICAN's 7x7x7 events are centuries old.
Event Format
The 7x7x7 format takes its origins from public intellectual dialogue forums — salons — where people gathered to exchange ideas and converse on topics varying from science, philosophy, humanities, health, business, politics and more. ICAN has brought this tradition of lively discussion to the modern age by focusing these events around business and community leadership in Omaha and Lincoln.
Presentation Playlist
[Add an image]