ICAN's Next Inspiring Leader / A Retirement Announcement from Susan Henricks
Susan Henricks + ICAN
October 6, 2021
Following my 40 year corporate career, I joined ICAN in 2014 as President & CEO to use my experience in business leadership to help develop more authentic, inspired and skilled leaders in the business community in Omaha and beyond. What I originally thought would be 5 years turned into an incredible 7 years!
I love the work of ICAN and it has been a true honor to uphold our mission of transforming organizations through the development of authentic leaders, but it is time for me to retire and pass this one-of-a-kind leadership role to the next person who wants to focus on inspiring great leaders.
ICAN serves more than 3,000 leaders annually through our leadership development programs, custom services, events and the Annual ICAN Women's Leadership Conference. During my time with ICAN, we have seen growth in our program opportunities; the evolving needs and interests of the local, national and global business community; the development of new customized programs to better serve our customers in more robust and tailored ways; and the opportunity to welcome a growing number of speakers and attendees to our conference in-person and now, also, virtually.
The mission of ICAN is ever present: Developing inspired, authentic leaders who transform the organizations and communities they serve.  ICAN instills values-based leadership through credible, experiential, and transformational development experiences that resonate with inspiration, connection, authenticity and knowledge. These programs help a leader advance in their career, gain self-awareness, foster inclusion, lead with intention, define their leadership voice, meaningfully contribute to their team/organization, and excel in the business environment.
I thank the incredible ICAN Board of Directors, ICAN's corporate sponsors, ICAN's key partners, ICAN alumni and the brilliant ICAN team, faculty and founders. It has been an honor of a lifetime to lead the organization, and I am so appreciative of the opportunity. Thank you for being part of my journey.
This is an exciting time for ICAN. See below for details on our search process and opportunity to apply. I look forward to welcoming ICAN's next President and CEO to carry forward our mission.
With Gratitude,
Susan Henricks
It has been an honor of a lifetime to lead the organization, and I am so appreciative of the opportunity. Thank you for being part of my journey.
Susan Henricks
President & CEO
"Susan has been the perfect leader for the ICAN organization. She came with a mission in mind and has exceeded all aspects of that, she possesses all the values that ICAN desires! From inspiring, being authentic, connecting and advocating for others, along with her expertise in business strategy. ICAN has benefited in so many ways with Susan's time as ICAN President and CEO. While our search for our next President and CEO begins, we know there will be big shoes to fill. Susan, we thank you, congratulate you, and wish you the very best in your next chapter of life!"
SHASTA WRAGGE
CHAIR OF THE ICAN BOARd OF DIRECTORS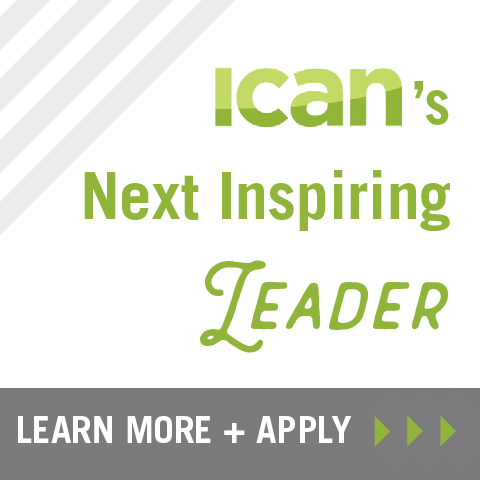 ICAN is looking for its next great + inspiring leader!
*Applications have closed*
This is a highly visible non-profit community executive leader position with a strong integration with the business+ corporate community. A role that focuses on the development of people+ organizations that is rooted in integrity, authenticity, relationship building, high performance, business acumen and values-based leadership. ICAN is an Omaha-based 501(c)3 non-profit that serves both individuals and organizations (of all sizes) with large+ broad reach across many markets.
CORE COMPETENCIES:
Integrity
Authentic Leader
Knowledge and Experience in Leading a Business
Knowledge and Experience in Business Finance
Knowledge and Experience in Developing Supervisors, Managers, Leaders
Business Development
Fundraising
Executive Relationship Building
B-to-B Marketing
Leading High Performing Teams
Excellent Communication Skills
Public Speaking Talents
Full definitions of these identified core competencies can be viewed here.
For the full lCAN President and CEO job description, please visit our position posting on the Nonprofit Association of the Midlands careers portal.
To Apply:
Applications CLOSED November 5.
Any remaining questions can be directed to Mary Kyle at mkyle@fnni.com.
ICAN appreciated you sharing this opportunity with potential candidates in your network!